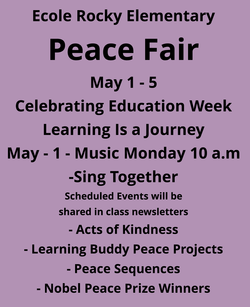 Join In The Fun!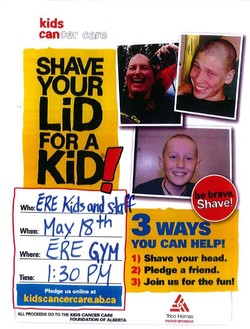 The Importance of Developing Fine Motor Skills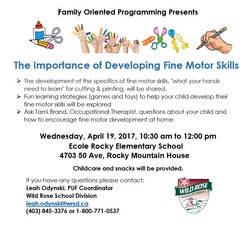 Kindergarten Registration!
Ecole Rocky Elementary provides a positive, healthy learning environment, rich with literacy and numeracy for students from Kindergarten to Grade 5. Kindergarten Registration for both our English and French Immersion Programs will be held Thursday, January 26th from 6:30 to 8:00 p.m. and again Tuesday, May 16th from 6:00 to 7:30 p.m. Registrations are accepted everyday at the office from 8:30 a.m to 4:00 p.m. Everyone is welcome! 
Great Teachers! Great Learning! Great School! Register Now!
Welcome to ERE - All Registrations Welcome!
Our Kindergarten Program offers playbased learning to enhance literacy and numeracy skills for all kids. Questions are welcome and can be answered at the time of registration or by calling the office at 403-845-3541 Registrations are accepted at the office anytime during school hours. 
Merry March
School Fees - 2016/2017
Basic School Fee: Kindergarten to Grade 5 - $40.00
The following are examples of items included in the basic school fee:
Instructional Supplies (paper, textbooks, workbooks etc.), Library Materials (digital library), Exhibitions, use of community facilities.             
Voluntary fees are charged separately to participating users to recover the costs for activities or products that are Extra-Curricular Activities (Calgary Fieldtrip) * Extra-Curricular Products 
Bell Schedule
Daily Bell Schedule
| | |
| --- | --- |
| 8:35 a.m. | Warning Bell |
| 8:40 a.m. | Classes Commence |
| 10:35 a.m. | Nutrition Break |
| 10:50 a.m. | Recreation Break |
| 11:08 a.m. | Warning Bell |
| 11:10 a.m. | Classes Commence |
| 12:55 p.m. | Recreation Break |
| 1:18 p.m. | Warning Bell |
| 1:20 p.m. | Nutrition Break |
| 1:40 p.m. | Classes Commence |
| 3:15 p.m. | Homeroom Bell |
| 3:20 p.m. | Dismissal Bell |