Back to all posts
Posted on
99 years and counting. . .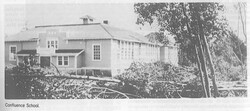 On this grandparents day, we are making a special school event announcement. For 99 years, a school has operated on this site.
We have been looking through the history books. In the year 2000, we renamed ourselves École Rocky Elementary because our french immersion program had become a vibrant component of the school.
Before that, we were known as Rocky Elementary School which included a major renovation in 1989.
Before the high school was built in 1962, we were simply known as Rocky Mountain House School which started as the west wing in 1949.
And before that, we were known as Confluence School, which was a four room school that was built on site in 1921.
So we will celebrate 100 years of learning on site on October 2021.
We have formed a centennial planning committee with Bill Snyder (retired principal), Rose Zalasky (longtime front office staff), Lori Allen (longtime librarian), Corry Woods (retired EA), Kim Simo (assistant principal), and Tim Bowman (principal).
Over this next year, we need your stories, your pictures, and for you to spread the word. Please connect with us by e-mail (rockyelem@wrsd.ca), phone (403-845-3541), or drop by in person.
We look forward to celebrating 100 years of learning with you October 2021.