Back to all posts
Posted on
Remembrance Assembly 2020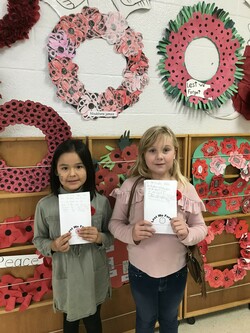 Today, ÉRE paused in remembrance of the those that lived and died during wartime and the freedoms they have provided us.
A big thank you to Mrs. Maxwell who shared the medals her father was awarded during World War II and the Korean War. A big thank you to ÉRE parent Celyn Magnus for playing the Last Post and Rouse for us.
In our assembly today:
- Presentation of class wreaths
- Mrs. Maxwell show and share
- Grade 1 "We Can Make A Difference"
- Moment of Silence
- School Song "Thank you Soldier"
Lest we forget.