Back to all posts
Posted on
ÉRE Centennial Mural Revealed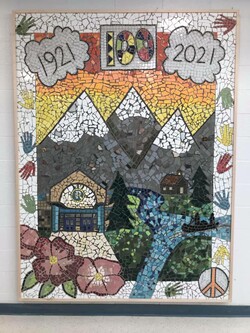 The ÉRE Centennial Mural was revealed Thursday, Oct 7 via live video stream
100 Years of Learning is a fantastic milestone, and to commemorate the occasion, we will unveil the Centennial Mosaic Mural on Thursday, 2 pm
The mural was created in June by every ÉRE student with the help of professional artist Debra Bryan.
The mural design was inspired by student artwork submissions
It measures 6 feet wide and 8 feet high
Little pieces of ceramic tile were used to create the images of École Rocky, Confluence School (the original school on site), the North Saskatchewan and Clearwater Rivers, the Rocky Mountains, voyageurs, forests, helping hands, wild roses, and symbols of peace.
Maintenance did an outstanding job building a frame for the mural and installing it in our school foyer.
The Centennial Mosaic is given as a gift to all the past, present and future students, staff, and families of ÉRE. We hope it will serve as a touchpoint for acknowledging all of the wonderful people that have passed through these halls in the past century, and those that will continue to contribute to the success of this community.
There will be a short video presentation describing how the mural was created, a short speech, and then, VOILA! Expect it all to be about 15 minutes.
The big Centennial Celebration event is on hold given no public gatherings in the school. We are hopeful to host it in Spring 2022.