Back to all posts
Posted on
Centennial Celebration May 20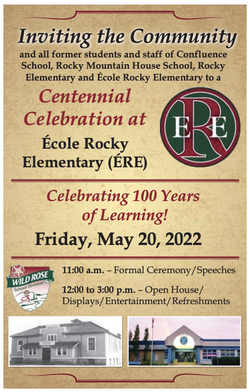 We celebrate 100 Years of Learning on Friday, May 20!
Detailed Centennial Event Schedule & Activities
This might be the largest event ever planned on site.
The event will start at 11 am with an assembly in the gym (speakers, student performances, school history, special guests, and opening the 1989 time capsule.)
The afternoon open house 12-3 pm will feature entertainment (Jazz Explosion, face painting, mascots, photo booth), refreshments (hot dogs, cupcakes, coffee/water), displays (class photos, history by decade, technology through the times), activities (indigenous games and picnic games), and visiting rooms.
Parking will be marked on the school field. There will be drop off spaces at the school front entrance. Please plan ahead that traffic could be congested in the area through the day.
This event is proudly supported by a Rocky Mountain House Kickstart Grant, Wild Rose School Board, Tim Hortons, Pidherneys, Co-Op, West Central Cosmetology and Leadership Students, and Pioneer Gr 7/8 French Immersion Students.
See you soon!