Back to all posts
Posted on
ÉRE Item Return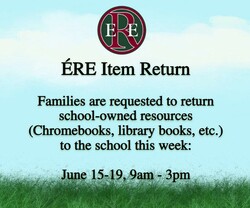 As students submit their final assignments, we are asking that all school-owned items be returned to the school this week (June 15-19).

If you have a Chromebook or library book or anything else borrowed from the school, you can drop the items off at the school Monday to Friday, 9am - 3 pm.

When you come to the school, there will be boxes set up in the front foyer for item return. We hope the items have been helpful over the last several weeks. Thank you!