Back to all posts
Posted on
ÉRE Remembers Shadow Play 2022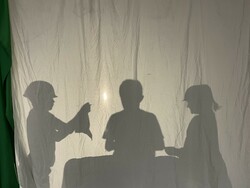 ÉRE Remembers Shadow Play 2022
The grade 4 & 5 leadership students of ÉRE created this shadow play to share what it may have be like to live during World War II.
The story starts with two people falling in love in 1936. . three years before the start of World War II. After the announcement of war by British Prime Minister Neville Chamberlain, a father leaves his family to join the war effort as a soldier. The time of war was difficult on the soldier and the family at home. Not everyone returned home.
The play ends with a moment of hope.
Thank you Mr. Swainson & Mrs. Maxwell for representing the Legion at our assembly of ÉRE Remembers.
Featuring the music of:
"I've Got a Feeling I'm Falling" - Ella Fitzgerald
"Wedding March" - Felix Mendelssohn
"Moonlight Serenade" - Glenn Miller
"Ballad of the Green Beret" - Sgt Barry Sadler
"Letters From Home" - John Michael Montgomery
"Twelve Seconds to the Moon" - Robert W. Smith
"Amazing Grace"
"Simple Gifts" - Yo-Yo Ma & Alison Krauss
"This Little Light of Mine" - Amelia Sirin-Brown & Yo-Yo Ma
#ERERemembers  #lestweforget2022  #ourrootsrundeep  #rockymountainhouse