Back to all posts
Posted on
Fish in Schools (FinS) program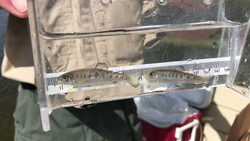 The École Rocky Elementary library has been home to more than just books the past 5 months. In mid-January, we took delivery of a vial of 65 rainbow trout eggs. After a week of nurturing the eggs, the students of École Rocky were proud to see baby rainbow trout (called alevin) swimming around!
Raising the fish from egg to fry is no easy task. They require careful monitoring of water, lighting, and food conditions to grow. To emulate the depths of a real river, we enclosed our aquarium with styrofoam to limit the light entering and cooled the water to just 10C. In the wild, we would expect less than 10% of these fish to survive the first year of life. Thanks to our controlled environment and extra special care from teachers Mrs. Hazelaar, Mrs. Kwantes, and Mrs. Gagnon, we had 42 fish grow to fingerling size.
With the assistance of Steve Herman, Senior Fisheries Technician with the Government of Alberta, we released our Rainbow Trout at Twin Lakes on June 4, 2020. With time and luck, our little fish will grow to a mature size in the lake.
The Fish in Schools (FinS) program is administered by Alberta Environment and Parks and has been a part of ÉRE's enhanced curriculum for over twenty years. There were just 35 schools in Alberta approved for participation in the program this past year.