Back to all posts
Posted on
Grade 4 & 5 Accountability Survey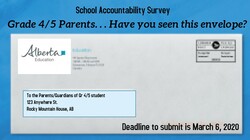 Dear Parent/Guardians of Grade 4 & 5 students,

You have likely received Alberta Education's annual survey requesting your voice in education. Your feedback is very important to us and responses collected will inform school planning and your child's educational experience.

You can respond to the survey by entering your unique code at the survey link: https://public.education.alberta.ca/apos/ or by mailing back the paper survey.

The deadline to submit has been extended to April 23, 2021.
Last year, our results were outstanding. We hope we are continuing to serve you well during an unusual year. If you need more information about any survey question, please feel free to contact the school (403) 845-3541 or by e-mail (tim.bowman@wrsd.ca)

If you didn't receive a survey or have lost your unique code, you can obtain a new one by contacting Alberta Education System Assurance Branch:

Hours: 8:15 am to 4:30 pm (open Monday to Friday, closed statutory holidays)
Phone: 780-643-9193 
Toll free: 310-0000 before the phone number (in Alberta)
Fax: 780-638-4197
Email: EDC.SystemAssurance@gov.ab.ca