Back to all posts
Posted on
Grandparents' & Grandfriends' Day, Oct 7, 1-3 pm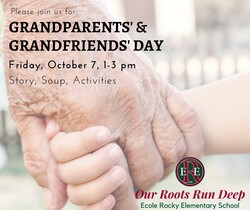 Hello ÉRE Families,
Grandparents' & Grandfriends' Day is one of our most treasured events and we are thrilled to have an in-person event return this year.
A few frequently asked questions:
Q1 - When is the Grandparents' & Grandfriends' event? Friday, October 7, 1-3 pm
Q2 - Can my child invite any special person for the afternoon? Yes! Any special person in your child's life is welcome. It might be a favourite aunt, older brother, neighbour, parent, or other friend of the family.
Q3 - Where can guests park? Parking is available on the school field.
Q4 - Who is preparing the soup? Several ÉRE parents at Asokewin Friendship Centre will be preparing the vegetable soup this year.
Q5 - What is the afternoon schedule?
1:00 pm - Assembly & Story in the gym
1:30 pm - Soup served in the classrooms
1:30 - 3:00 pm - Classroom Activities
Q6 - I can't attend the entire afternoon. Can I still come? Yes! Of course!
Q7 - Do you have an invitation I can share? Yes! Of course! Link to this page! 
Q8 - Can grandparents' take students home after school? If the person is listed as an emergency contact on our student records, they can pick up students with parent permission. Please notify the school and bus driver of any after school plans that are not the norm.
Q9 - What if my child doesn't have a special person coming to the event? That is okay! They will be gladly 'adopted' for the afternoon by other grandfriends in the classroom.
Q10 - How much has ÉRE missed hosting Grandparents' Day in person? More than missing cake & ice cream! (And we really love cake & ice cream!)
If you have any questions, please connect with the classroom teacher or school office.