Back to all posts
Posted on
New Registrations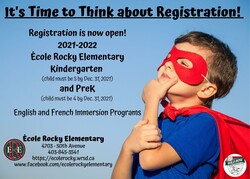 École Rocky Elementary is accepting registrations for the current 2020/2021 & upcoming 2021/2022 school year.
French and English Immersion programs available
Pre-K (aged 4 by Dec 31)
Kindergarten (aged 5 by Dec 31)
Grade 1-5
 Step 1: Complete the online registration form and attach all documents (Birth Certificate)
*Please ensure the scans of the Registration Form are bright and high resolution. Scans that are grainy or taken in low-light will be refused when we upload to our Student Information System.
Step 2: Arrange busing if needed through Wild Rose Transportation Department
Step 3: Review the classroom supply lists. Online pre-ordering is available through Custom School Supplies until May 30, 2021: https://www.customschoolsupplies.ca/rocky2021/
Step 4: Get to know École Rocky Elementary.
Step 5: Count down the days until school begins :)
If you have any questions, please contact us by phone (403) 845-3541 or e-mail: rockyelem@wrsd.ca
2020/2021 Pre-K Program
The Pre-K program runs Monday, Wednesday, and Friday, 8:45 am - 1:00 pm. The program is staffed with a certificated teacher (Mme. Melanchuk). Program cost is $185 a month ($1850 for the year). Program subsidies are available for qualifying students.
2020/2021 Kindergarten
Our English Kindergarten program runs full day Monday/Wednesday and alternating Fridays and is taught by Mrs. Whalen.
Our French Immersion Kindergarten program runs full day Tuesday/Thursday and alternating Fridays and is taught by Mme. Morin.
A change for the 2021/22 Pre-K Program:
We are excited to offer a preK program 4 mornings a week in 2021/22. Our plan is to run Monday, Tuesday, Wednesday, and Thursday mornings, 8:45 am - 12:15 pm.