Back to all posts
Posted on
Our long serving caretaker, Lena Tissen, to retire Dec 21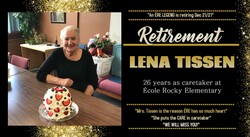 Our longest serving staff member has announced her retirement.
Lena Tissen has worked at École Rocky Elementary so long, it wasn't even called ÉRE when she started. No matter the school name, the building is the same, and for 26.5 years, it has been cleaned and cared for by Mrs. Tissen. She is the reason the school shines a little brighter and it's heart beats a little warmer.
Mrs. Tissen has not only provided exceptional caretaking of the school, but she has formed marvelous friendships with the students, staff, and community. Her sense of humour and willingness to help anyone in need is widely known. Her talent show submissions (featuring her cleaning superpower) the past few years have been school favourites.
Mrs. Tissen arrived in Rocky Mountain House in the 1990's with her husband Egon. She grew up in Saskatchewan with her twin and 8 other siblings. As one of the oldest children, she learned to care for others, and this skill came in handy when Rocky Elementary was seeking a caretaker in 1995. After having various other careers, Mrs. Tissen decided to take the job to give herself 'something to do'. We are so glad she did.
With retirement now on the horizon, Mrs. Tissen looks forward to celebrating her 60th(!) wedding anniversary with husband Egon in the coming year.
Watch for a special interview with the very special Mrs. Tissen in our December ÉRE TV to be released Dec 21.