Back to all posts
Posted on
Parent Information Night, Jan 26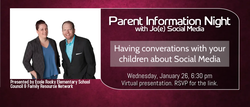 Our School Council & the Family Resource Network are proud to present:
"Having Conversations with your Children about Social Media"with Jo(e) Social Media
Wednesday, January 26, 6:30 pm
Virtual presentation.
RSVP at https://www.whitbreadphillips.com/service-page/online-parenting-and-social-media?referral=service_list_widget
The Jo(e) Parenting and Social Media program bridges the gap between parent understanding and kids' behaviour, and doing everything they can to start a positive social media conversation in homes. Tips and guidelines will be provided so parents can make choices that will protect their kids while allowing them to enjoy the positive aspects of social media.
Grade 4 & 5 students will also have a presentation with Jo(e) Social Media the afternoon of Jan 26.
Many thanks to the Family Resource Network for their sponsorship of this program.