Back to all posts
Posted on
Parent/Teacher Interviews Nov 20/21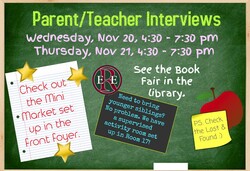 Parent/Teacher Interviews are Nov 20 & 21, 4:30 - 7:30 pm.
While in the school, also see the Book Fair in the Library and the Mini-Market set up in the front foyer.
We have Room 17 setup as a supervised activity room for younger siblings.
We can't wait to see you! If you haven't yet scheduled an interview, please set one up online: 
The link is https://www.schoolinterviews.ca/  
Event Code is xbxgw
PS. . . don't forget to look through the Lost & Found!