Back to all posts
Posted on
School Council Sept 29, 2021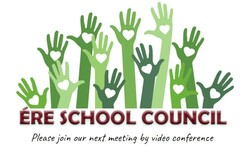 The next School Council Meeting is September 29, 2021, 12 noon. 
We need you! A healthy School Council is a healthy school.
Please join virtually using the ZOOM video conference link: https://tinyurl.com/ERESchoolCouncil password: ERE
All parents are welcome. 
Reasons to participate on School Council:
1. Be informed on issues that affect your child's education.
2. Education research has demonstrated that student achievement is enhanced by parent involvement.
3. Volunteers contribute to the high quality education students receive at ÉRE.
4. Meet new people.
5. Develop new skills.
6. Your voice is important!