Back to all posts
Posted on
School Re-Entry Plan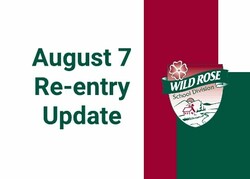 Our team is excited to welcome students back to in-classroom learning this fall. Of course, there will be many additional health and safety measures implemented to assist us in having a safe school start up. Here are several school startup items you may find helpful:
1. Please read the WRSD Guide to School Re-Entry. This is a comprehensive document outlining how Wild Rose schools will address items like busing, school cleaning, and student groupings in addition to the many new health and safety standards during a continued pandemic.
2. You have three choices for student instruction this year. 
School directed in-classroom learning

Traditional school with additional health and safety measures
Students attend school when healthy

Teacher directed at-home learning

Students work at home with a teacher directed program. 
Please note: This at-home program would cover the full curriculum as opposed to the 'emergency at home program' that was offered March-June this past year that focused only on essential concepts in language and math. The full curriculum at home program would be much closer to 5 hours of work a day covering all subjects and outcomes.
Please note: Students receiving teacher directed at-home instruction must continue with at-home instruction from the date they begin through to the end of that current quarter. Students may return to in-school classes on the following quarter dates: November 16, Feb 1 and April 12. Parents must provide 2 weeks notice if they intend to have their child return to in-school classes on one of the above dates.
Please note: This option may by staffed by an ÉRE teacher or a Wild Rose Public Teacher from outside the school.
If choosing this option, please fill out the following survey by August 17, 2020: At-Home Instruction Registration Form

Parent directed homeschooling

You may find this HomeSchooling Handbook very helpful in determining if homeschooling is the right option for your family and how to proceed with setting it up
If choosing this option, Parents would need to source their own home-schooling board to register with. This is not offered through ÉRE or Wild Rose School Division.
3. École Rocky Elementary will have a staggered start. Students will attend their first two classes with half their classmates to assist with the teaching and practicing of several new health and safety measures. Information indicating which cohort your child will be in was shared to the parent e-mail on file August 18, 2020. Please contact the school if you did not receive the cohort information for your child. Updated calendars can be viewed from the links below:
4. École Rocky Elementary Classroom Supply Lists
PreK does not have a supply list. These items are provided by the school.
5. If you need to arrange busing, that can be arranged from the WRSD Transportation page. Students registered for busing will receive a phone call a few days before school starts with their bus pick up time.
6. In light of the additional health and safety measures, we have scaled back our August 27 open house event this year. Instead, we will run scheduled school tours for families 1-3 pm August 27. Please contact the school if you wish to arrange a school tour.
7. Parents and Caregivers will have a more involved role to play in keeping schools safe. This includes performing a morning screen daily to ensure a child is healthy to attend school, and also picking up a student promptly if they should become ill while at school.
8. If you have questions, or would like to schedule a school tour, please reach out to the school admin.
Principal - Tim Bowman - Leave a phone message at the school (403) 845-3541 or e-mail tim.bowman@wrsd.ca
Assistant Principal - Kim Simo - Leave a phone message at the school (403) 845-3541 or e-mail kim.simo@wrsd.ca
The school office will reopen August 24.