Back to all posts
Posted on
School Parking and Classroom Entrances/Exits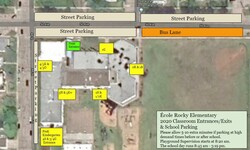 School parking & Classroom Entrances/Exits
We are excited for the start of school on Monday, Aug 31. Like most schools, we have limited parking around our school which is often over capacity before and after school. Please allow yourself 5-10 extra minutes for parking during high peak times directly before and after school.
Most importantly - be extra mindful to watch for our students! Children are often super excited about the start of school and not as alert to traffic as desired. Please use the marked crosswalks if crossing the street. A reminder that School Zones are 30 km/h.
Playground supervision starts at 8:20 am each morning. Our school day runs 8:43 am - 3:19 pm. Students will line up at their class pylon located at their class entrance to enter the school. At the end of the day, parents wishing to pick up at students are encouraged to wait at the classroom exits.
Parents are welcome in the school. Just know we will be asking you to fill out a COVID screening form and to wear a mask while indoors.Many thanks for your cooperation! See you soon!